Most anglers are on the water for hours and need to be prepared for almost anything. Proper and sufficient storage for gear, tools, and safety equipment is key. Easily accessing equipment and keeping everything organized can help ensure everyone has a productive, successful, and most importantly, enjoyable day of fishing.
When designing the RAGE R22, creating plentiful and organized storage areas throughout the boat was top-of-mind for Campion. Utilizing the fiberglass grid structure of the RAGE made it easier to allow for built-in storage areas throughout the boat without compromising passenger space.  From bow to stern, there's guaranteed to be a storage space at arm's length giving you access to the gear you need quickly.
We've included some highlights of RAGE storage solutions along with important features:
Secure Storage Compartments 
The RAGE features a variety of waterproof storage compartments of various sizes throughout, making it easy to tuck away safety gear, accessories, or whatever else you might need to stow. Since these compartments are built into the structure of the boat, they are very deep and can hold a lot. All compartments onboard feature stainless-steel compression hinges and slam latches for a tight, secure seal.
Passenger Glove Box 
The large glovebox, located on the passenger side, is a great place to lock up valuables such as phones, keys, wallets, or sunglasses for safekeeping. The glove box is large enough to store extra baits and other equipment and features LED lighting so you can easily see items inside as the sun sets or when fishing for walleyes in the evening.
Integrated Tackle Organizers 
There are three integrated tackle organizers aboard designed to hold about three Plano boxes each, perfect for storing extra tools, tackle, and baits. There are an additional two very large storage compartments on either side of the deck that can hold up to 30 Plano 3700 tackle boxes each.  Perhaps it's time to shop for some additional gear!
Lockable, Ventilated Rod Storage Locker 
As you pass through to the casting deck, you'll find the integrated, ventilated rod locker that easily holds 20 rods. The rod locker features LED lighting and can be locked to keep your rods secure onboard when you're not. An easily accessible compartment at the bottom of the rod locker stores your trolling motor batteries safety. The top of the storage locker features Campion Marine Deck with a built-in tournament fish ruler so you can keep tabs on what you're catching throughout the day.  There is a second tournament fish ruler located on the lid of the Livewell 02 Pro located on the stern.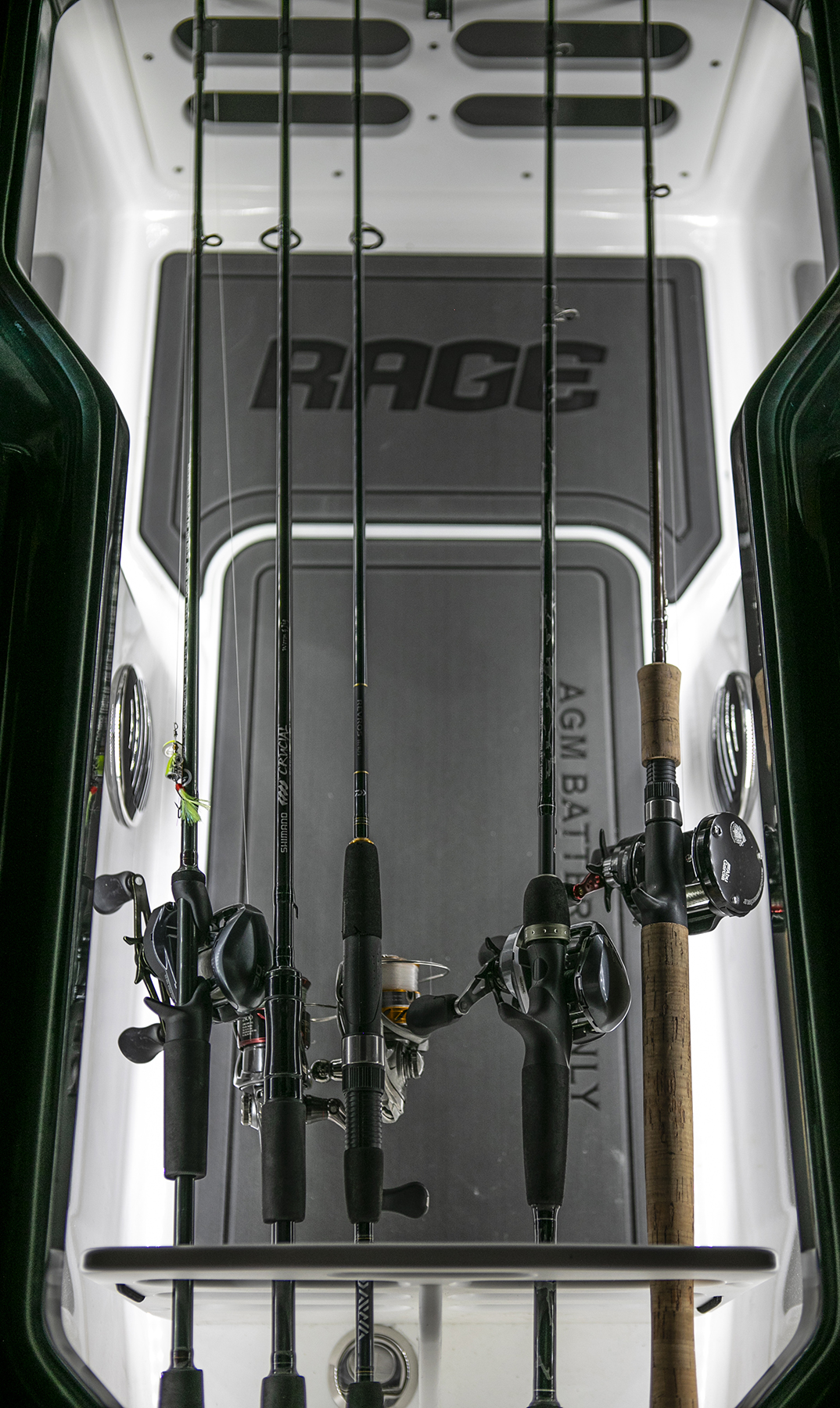 Integrated Tool Holders 
There are three integrated tool holders onboard the RAGE located on either side of the deck area and one on the casting deck. Each is perfectly located for easy accessibility and are designed to hold important tools such as pliers, knives, scissors, and more.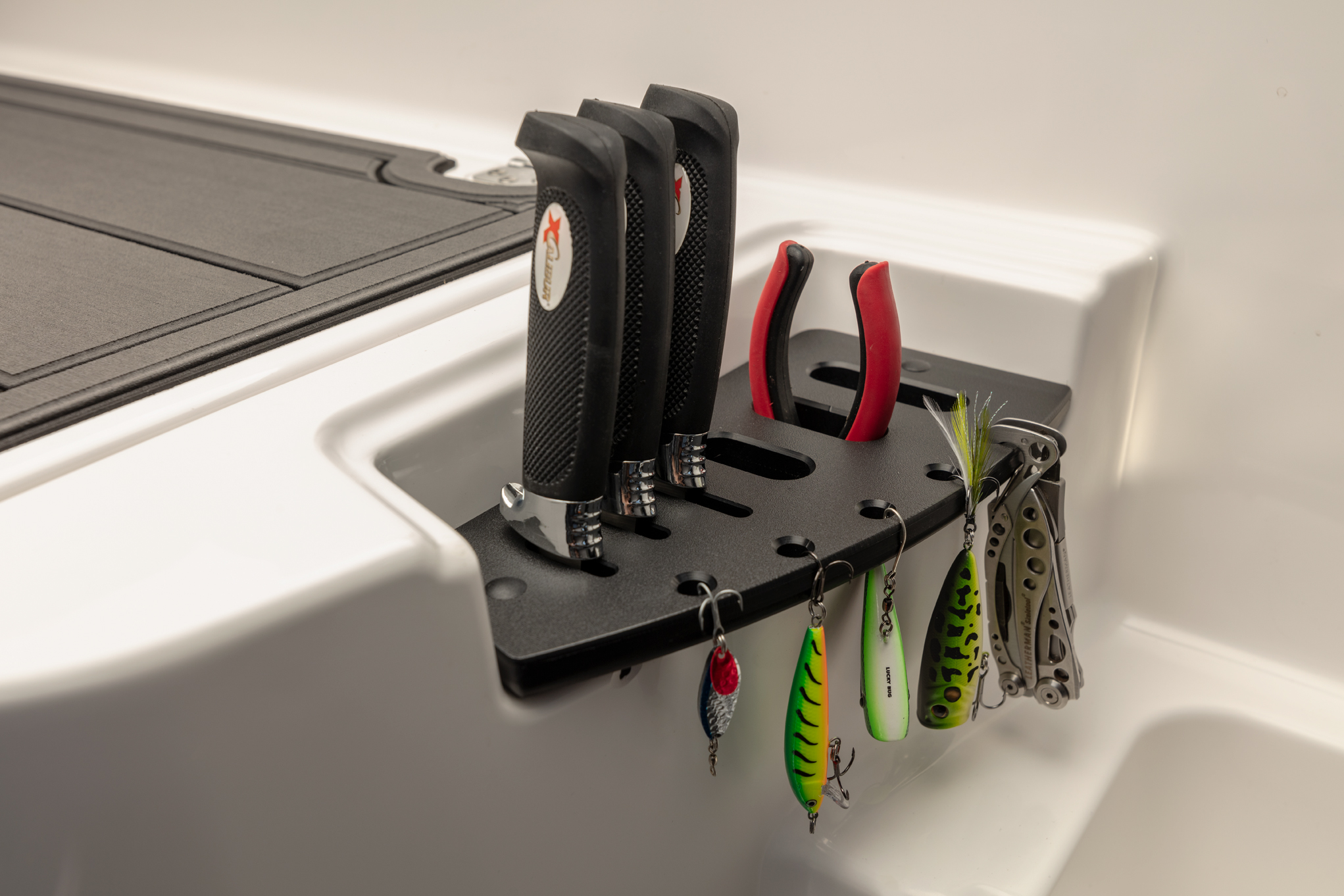 Bait Buckets
Built-in bait buckets are conveniently located in the bow and stern areas of the RAGE to accommodate multiple fishing areas.
Livewell O2 Pro
Our Livewell O2 Pro is designed to keep fish happy. The pressurized system includes aeration, anti-slosh technology, removable dividers for separating different species of fish, calming blue on the inside, timed pumps, and an oxygenator. Controls are located just alongside the livewell for easy adjustments. Night fisherman will also find the lights helpful.
 Stainless-Steel Cup Holders and Cooler
Of course, the RAGE also features numerous stainless steel cup holders with optional LED lights so there's always the perfect place to keep beverages secure. Store drinks, food, or other items that need cooling in the built-in drainable cooler located just behind the helm.
The RAGE truly is your partner while fishing.  With versatile, easy-to-access storage that helps to keep you organized, The RAGE offers you more efficient time while on the water to do what you do best.  Learn more about all of the incredible features of the RAGE R22. Contact your local dealer for more information: Locate Your Dealer