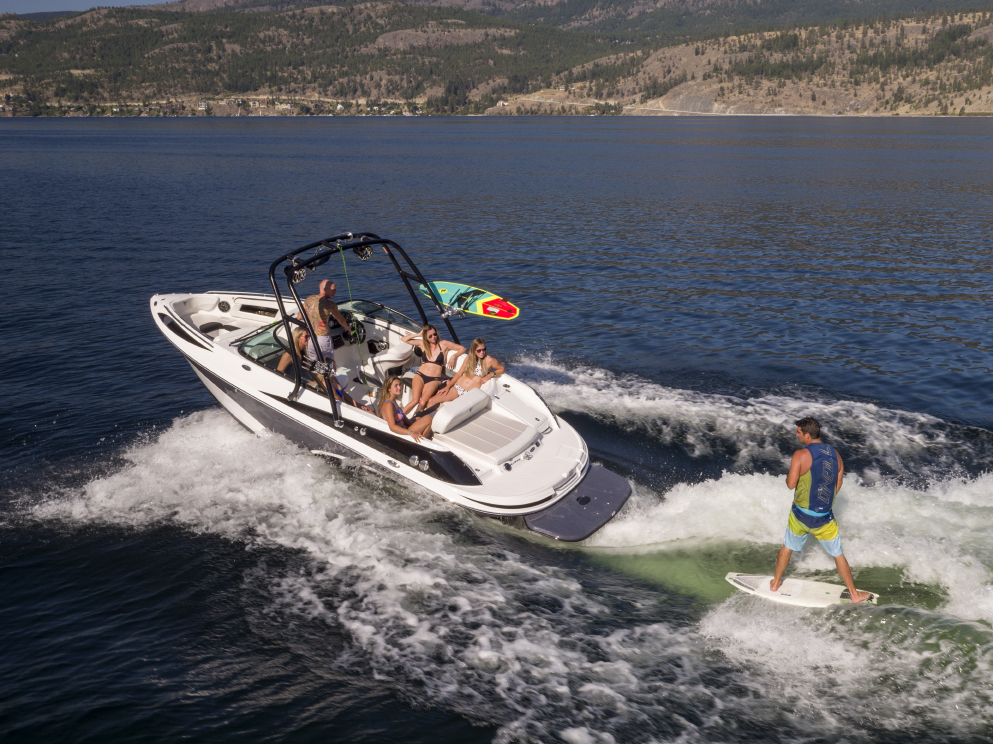 Simple Tips and Tricks to Help You Get Started

Summer's here and it's time to get your Campion Boat loaded up and ready to hit open water for some fun in the sun. Perhaps you're already an avid water skier but looking to change things up a bit or new to watersports altogether.  We recommend trying your hand at wakeboarding!  Many experts say out of all the watersports, wakeboarding is the quickest to learn.
We've put together a brief guide on wakeboarding including tips and what you'll need to get started.
Equipment You'll Need
The first step to a successful wakeboarding trip is making sure you have the right boat.  Boats designed for watersports featuring a built-in bowrider, such as the highly anticipated 2021 Campion Muskoka high-performance boat, are ideal for elevating the tow point making it easier for the wakeboarder to get up and stay up in the water.  It's recommended beginners use a shorter tow rope at first – about 65 feet.  A shorter rope combined with slower speed will create wider and bigger wakes making it easier for you to jump them.
If you're confident enough to create a bigger wake, you can add weight in back of the boat. The more weight you place in the back, the higher and shorter the wake will be. As a beginner wakeboarder keep in mind you may want to start off with shorter wakes until you get more comfortable.
Now that your boat is configured, it's time to gather your wakeboarding equipment. Look for a local sporting goods store that offers board and equipment rentals so you can determine if you want to invest in your own down the road.  Most likely, you'll be able to rent everything you need to get started with expert guidance.
Wakeboarding Equipment
How to Pick Your Board
There are a couple things to consider when selecting a wakeboard, board type and your own body. There are three types of wakeboards; hybrid, surf, and skim style boards.  As a beginner, select a surf-style board designed to make it easier to learn from.
Next, pick your board based on your weight. Reference the chart  as seen on discoverboating.com to determine the best board for you. You can also ask an expert to help you find the right board for your body and skill level. 
Wakeboard Bindings
Wakeboard bindings are boots that are anchored to your wakeboard, allowing you to maintain your balance, ride waves and perform fancy tricks. Bindings should be snug but not so tight they're painful. Most bindings are designed to fit a range of shoe sizes, while some higher-end boots are single sizes.  With so many options such as closed toe, open toe, and various closure systems, it's best to ask an expert to help you decide which is best and most comfortable for you.
Wakeboard Life Jackets
It's critical, especially as a beginner, to stay safe while wakeboarding which is why life jackets are so important.  Wakeboard life jackets are designed to keep your head above water and provide buoyancy if something should go wrong.  These jackets are lightweight and flexible enough to allow for movement and are more comfortable than traditional life jackets.
Once you have all the recommended equipment, the last step is to hit the water! Here are some things to keep in mind:
You will fall and that's okay. You're learning so get back up and try again.
Be prepared, falling will not feel good.
Don't pull on the rope. Let the boat pull you up.
Keep the handle low and close to your hip.
Look straight ahead and not at your feet.
Your arms will be sore but will soon get stronger.
Practice makes perfect.
Have fun!
For beginner tips on how to get up and stay up on a wakeboard, you can visit Boating Magazine's "How to Get Up on a Wakeboard" and you'll be wakeboarding like a pro in no time at all.
Sign up for more information and updates on the Muskoka high-performance boat coming in 2021.