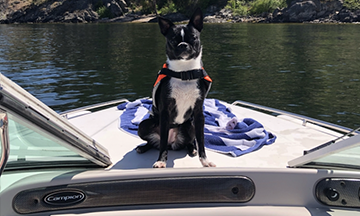 Tips on keeping your pet safe and happy while out on the water
The dog days of summer are here and there's no better way to enjoy precious summer days than on the water with your family – including your pup! Just as we have safety tips to keep humans safe, there are protocols to ensure your dog's safety on the water.  We've put together a list of tips to help your dog stay safe while boating:
Check Local Laws
Before your dog even jumps on board, be sure to review laws pertaining to boating with pets for the province, state, or country you're in or may be traveling to.  If you plan to cross into international waters, be sure to have the appropriate paperwork available should you be stopped along the way.  Review US Boating Regulations and/or Canadian Boating Regulations
Start Slow
For your pup's first time aboard your boat, allow plenty of time for them to get acclimated to the movement of the boat, the surface of the cockpit/deck, and the space itself. Keep initial outings shorter until your pet gets more comfortable.  Remember, it may take some time for your pet to get used to normal passenger events like waterskiing, wakeboarding or fishing. Be sure to reinforce learning new experiences with lots of treats.
Getting On and Off
While it's easier to carry small breeds on board, it's a bit more difficult for larger breeds. You may wish to invest in a ramp or ladder to make it easier for your pet to get on and off the boat without injury. Using plenty of treats, make sure you practice using the ramp or ladder on dry land so when the time comes to actually use the ramp to board, your pet is already comfortable.
Pack the Right Supplies
When boating with your dog, you'll want to be sure you have a few extra items on your packing list.
Sturdy, waterproof leash
Fresh water
Comfortable bedding/non-skid mat
Plenty of towels
Treats (to help with training)
Sunscreen (apply to noses and parts of the body with less hair to avoid sunburn)
Water toys
Choose the Right PFD
Wearing a life jacket is the single most important thing anyone, including your dog, can do to help themselves be safer on the water. A life jacket will protect them from harm if they should fall overboard. When shopping for your pup's life jacket be sure to properly fit the life vest based on weight and specific measurements.  Watch how to measure your dog for a life jacket. Important features of your pet's life jacket should include the following:
Handles on top for lifting your dog up and out of the water quickly
Dual grab handles, especially if you have a large-breed dog
Reflective trim
Adjustable chest straps and belly buckles for a secure fit
Bright color for visibility
A D-ring, so that you can attach a leash. A leash helps reduce the chances of your pet falling overboard accidentally.
Potty Training
If you plan on taking longer day trips, you may want to consider potty training your pooch. Place pee pads, artificial grass or Fresh Patch in a designated spot aboard your boat and teach your dog to use this area. Teaching your dog to potty on cue can be done quickly and easily. Once ashore, be sure to dispose of soiled items in a proper waste disposal area and NOT in the water.
A special thank you to Campion owners who submitted photos of their pups! With a little preparation and patience, boating is just one more way you can strengthen the bond with your furry family member and spend quality time together on the water. For more information on Campion Boats, please contact your local dealer.